About Us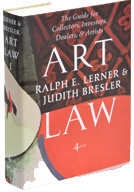 Ralph Lerner has advised and negotiated more private transactions and public auction sales of art over the past 40 years than anyone in the United States, including numerous purchases and sales in excess of $100,000,000.
Lerner has access to a multitude of supporting experts, including attorneys, appraisers, conservators, custom facilitators, curators, dealers, scholars, museum personnel, and shippers;  In many ways, he's sought after in terms of representing estates, collectors, artists, law firms and foundations.
He has served as Chairman of the Art Law Committee of the Association of the Bar of the City of New York, Chairman of the Fine Arts Committee of the New York State Bar Association and Chairman of the Visual Arts Division of the American Bar Association Forum on Entertainment and Sports Law.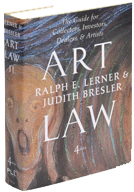 While he has served on the Board of the New York Volunteer Lawyers for the Arts, Lerner is also a nationally-acclaimed speaker and writer on the topic of tax planning for collectors and artists.
Ralph has dealt with the Internal Revenue Service in the broadest possible manner and includes among his clients many of the foremost artists, collector and art dealers in America.
Ralph E. Lerner is currently performing legal services, at Ralph E Lerner, LLC. His contact information is ralphelernerlaw@gmail.com and tel: 212 521-4438